This video will help you understand how to configure your Sensedge Mini, how to connect it to a network, and how to display your device on the Kaiterra Web App.
Timestamps:
0:00 - Introduction
0:21 - Disclaimer for Ethernet users
0:47 - Kaiterra Enterprise Configuration Tool and Kaiterra Web App Account
1:02 - Entering Configuration Mode
1:23 - Using the Kaiterra Configuration Tool to discover your UDID, and configure your network, MQTT, and Modbus settings
3:09 - Resetting your CO2 and TVOC baselines
3:50 - Adding your Sensedge Mini to your Kaiterra Dashboard
4:20 - Closing the device
---
Below is a text version of the video above! This is for those that prefer a laid-out text walkthrough or would like some clarity on some of the points made throughout the video.
Properly configuring your Sensedge Mini is the key to success! This walkthrough will cover the steps needed in order to achieve that on your first try - so there's less backtracking and more data collecting!
Before we start - in addition to the device, you will also need: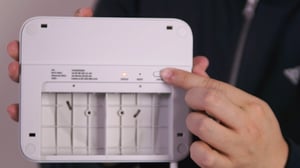 To start, you will need to turn the device on (or off and back on) in order to enable Configuration Mode.
This mode will last for 15 minutes.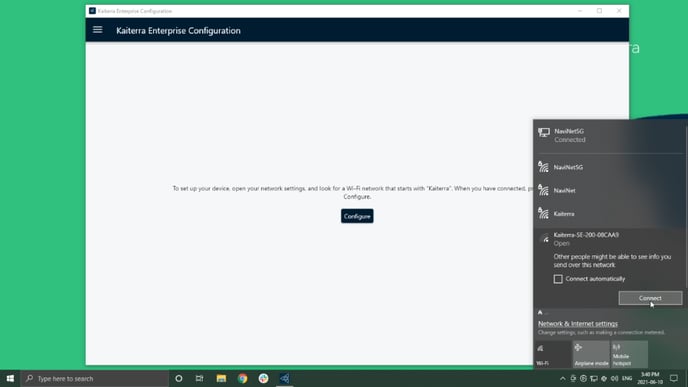 On your computer or smartphone, open up the Kaiterra Enterprise Configuration Tool and connect to the WiFi network with "Kaiterra" at the start of its name.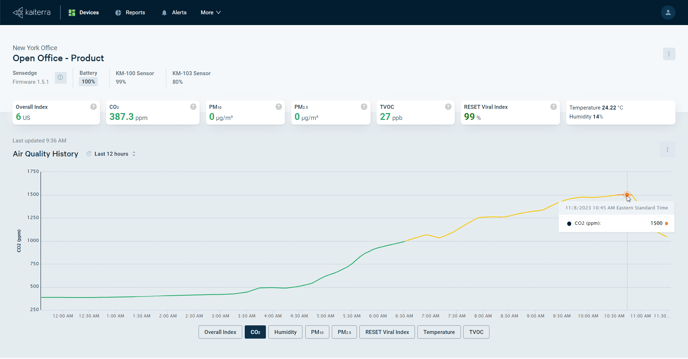 For smartphone devices, you may receive a warning that the Wi-Fi signal has no Internet access. Make sure to "tap for options" and choose "stay connected", otherwise your phone will not properly connect!
Once connected, you will see the basic information of your device - including the Sensedge Mini's Unique Identifier, or UDID. Make sure to save this somewhere safe for now.
Click on the "configure" tab and you will see a series of settings that you can configure on the device.
Please note: some of our configuration options are only available on newer versions of our device firmware. Our firmware automatically updates upon a successful network connection.
Run through the WiFi/Ethernet setup, connect online, and remain online for ~15 minutes so the firmware update can successfully install on the device.
Once complete, connect to the device again and your firmware should be updated to the latest version.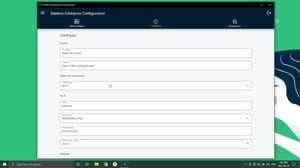 Under Project, you can fill out:
Project - to categorize the device
Device - to name the device
Preferred Connection - to choose your network preference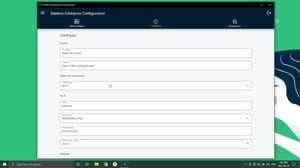 Under WiFi, you can fill out:
SSID (Network Name)
Security Type
Password
Network Type (for manual/static connections)
Remember: both the SSID and Password are case-sensitive!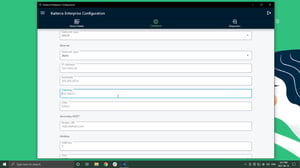 Under Ethernet, you can switch the Network Type to Static (for manual connections) to set the:
IP Address
Submask
Gateway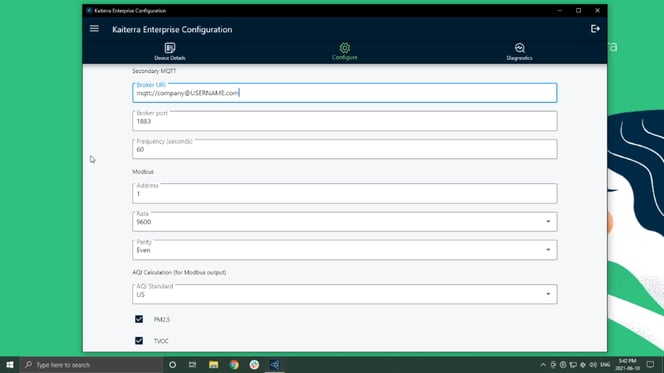 Under MQTT, you can fill in:
Broker URI
Broker Port
Frequency
For Modbus, you can fill in:
Address
Rate
Parity

You can also choose the AQI Standard and Pollutants for your Modbus output here.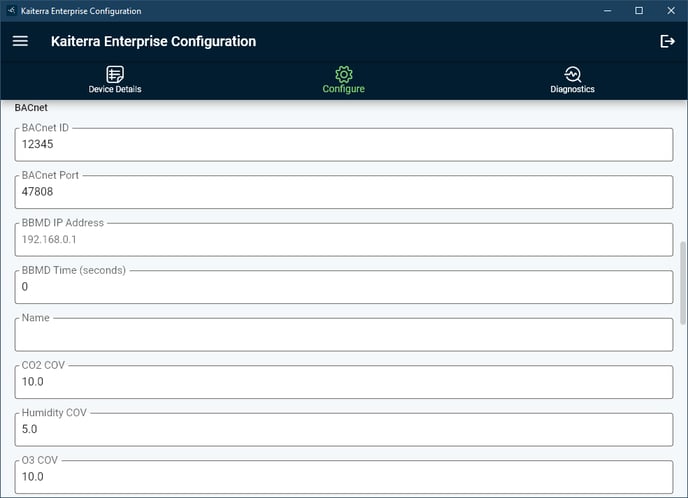 For BACnet, you can set the ID.
Once the BACnet ID is set, additional options for BACnet Port, BBMD IP Address, and Change of Value (COV) will appear. Fill these out as necessary.
Leaving the BACnet ID empty will disable BACnet.
At the bottom, you can reset the CO2 and TVOC baseline values. Only use these if you know what you are doing (and get in touch with us if you want to know more!)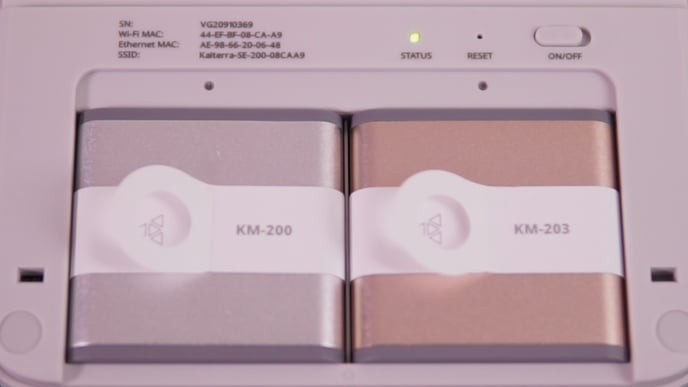 Once you click "Configure Device" on the Kaiterra Enterprise Configuration tool, your device will enter pairing mode and will use your settings to connect to the network. The status light will glow green during this process.
If the light turns off, the connection is successful! However, if the light turns:
Flashing Red = No network connection
Steady Red = Device failure
In either case, start the process over by re-entering Configuration Mode (turning your device off and back on), double-check your settings, and try again.
If you continue having problems - submit a support ticket and we'll be glad to help!
To view the data from your Sensedge Mini, you will need to connect the device to your Kaiterra Web App. There are two ways to accomplish this: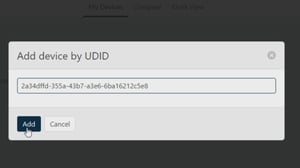 One way to add your device is by using the UDID from earlier. Simply log in to your Kaiterra Web App, click "Add Device via UDID" and fill in the information.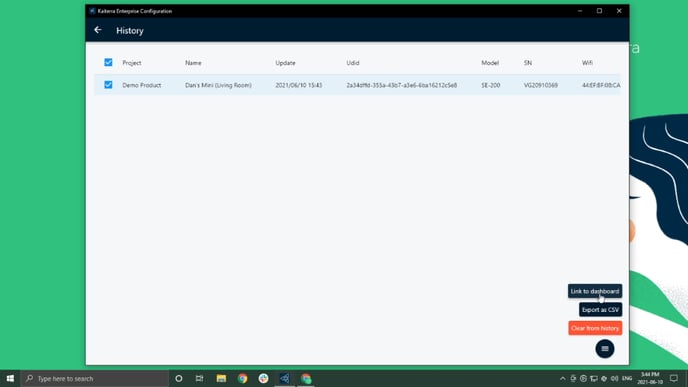 Another way to add your Sensedge Mini to your Kaiterra Web App is with the History tab in the Kaiterra Enterprise Configuration Tool. This is especially handy for large-scale projects that are configuring multiple devices at a time. Check off the devices you wish to add, click "Link with Web App".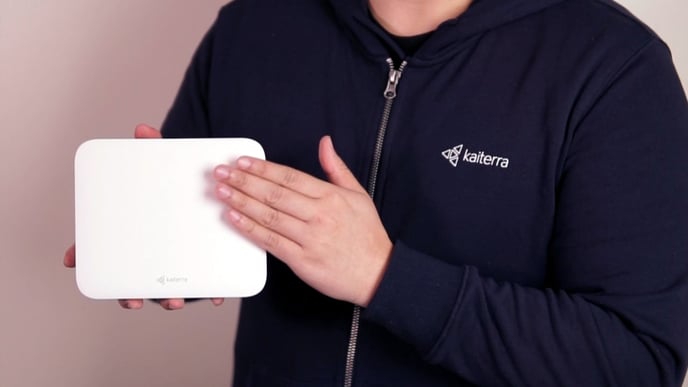 And that's it! Once your device is properly configured and connected to your Kaiterra Web App, you will be able to view all of the Air Quality data your Sensedge Mini is taking in!

Just remember to place the front panel back onto the device - it really completes the look!
If you have any problems with setting up, connecting, or configuring your Sensedge Mini, get in touch with us by submitting a support ticket!