This guide will help you connect your Sensedge Mini with the Kaiterra Web App, so you can view, compare, analyze, and download your data.
Before the setup, please make sure that your device is powered and connected to the network.
What you will need
A computer or smartphone that can connect to Wi-Fi
Before setup
Go to https://app.kaiterra.com, and register an account with your email address. You will receive a confirmation email to verify your account during the first use.
You can connect your device(s) to the Kaiterra Web App in two ways: add from the device UDID, or add from the Kaiterra Enterprise Configuration Tool history page (recommended for bulk adding).
Add from the device UDID
Download the Kaiterra Configuration Tool and install it on your computer or smartphone if you haven't already done so.
Remove the front cover of your Sensedge Mini, and turn on the device using the ON/OFF switch (if the device is already on, switch the device off and back on the enable Configuration Mode).
Connect your computer or smartphone to the Wi-Fi network starting with "Kaiterra" that has now appeared.
Open up the Configuration Tool and click "Configure". Once your device is connected, the UDID of the device will be displayed and can be copied or saved from this page.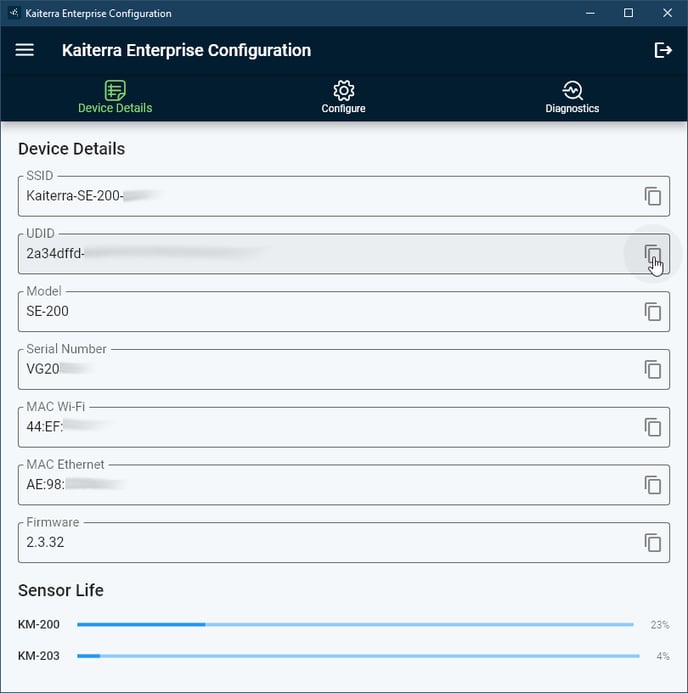 Log into your Web App account and click the "Add Device" button.
Enter your device's UDID in the pop-up window, then click "Add Device".
The newly added device will now appear in your device list.

Add from Configuration History (Recommended for Bulk Adding)
If you have used the Kaiterra Enterprise Configuration Tool to set up a network for your device(s), you can use it to add multiple devices to the Kaiterra Web App simultaneously.
Go to the History tab (under "More Options") and you will find all the devices that have been configured by this computer or smartphone.
Select the device(s) to be added to your Web App account, and click "Link with Web App".
Your Kaiterra Web App should open up in a new browser window. Follow the on-screen instructions to add the devices to your Web App account.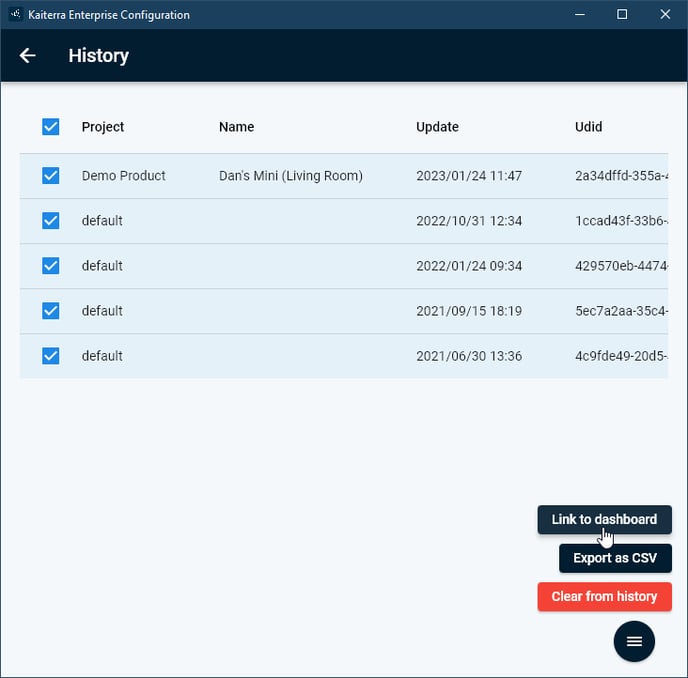 View and Export Your Data
Newly added devices will appear on your Web App home page. To view your current air quality status and data on a specific device, click on the device card.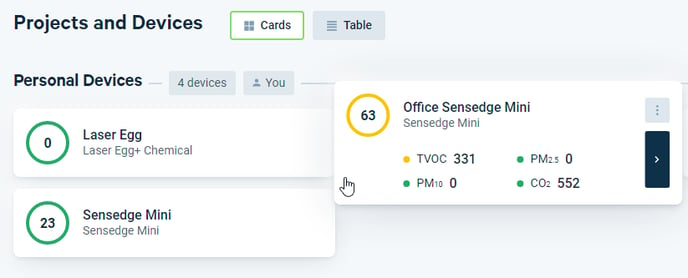 Click the ">" button to see device details, historical data, compare trends, and export your data into CSV files.