This guide will help you connect your Sensedge with the Kaiterra Web App, so you can view, compare, analyze, and download your data.
Make sure your device is connected to the Internet. The Sensedge supports Wi-Fi and Ethernet for connectivity. You can learn more here about how to connect your device.
Go to https://app.kaiterra.com and register an account.
There are two ways to add the Sensedge to your Kaiterra Web App account:

Method 1:
You will need to find the device's Unique Identifier (or UDID). This can be found on the device's Settings --> Device Details page. Once found, input this UDID into the Kaiterra Web App "Add Device" page.

Method 2:
While logged into the Kaiterra Web App on your mobile device, navigate to the Settings --> General page. At the bottom of the page is "Pair Device". This page will reveal a QR Code, which you can scan with your camera.

Scanning this QR code will open up your web browser to the Kaiterra Web App page, with the UDID already populated for the device. Press "Add" to add the device to your account.

The newly added device will now appear in your device list. To view your current air quality status and data, click the device card.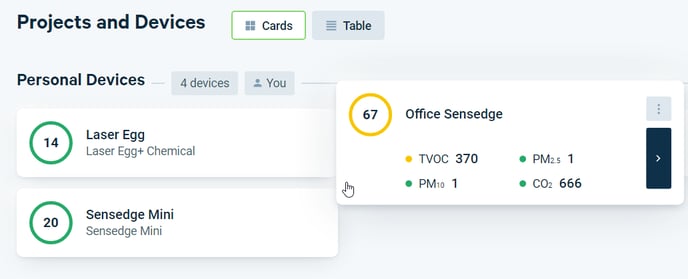 Click the ">" button to see device details, historical data, compare trends, and export your data into CSV files.