Apple HomeKit empowers iOS users to better understand and control their indoor air quality. By integrating it with your Laser Egg, you can remotely view your air quality readings and stay on top of your air quality.
To set up, follow the instructions to connect your Laser Egg to Wi-Fi. This process will add your Laser Egg to your Home app, which lets you access your HomeKit accessories.
With Apple HomeKit, you can improve your home environment with features like:
Siri
Make sure that Siri is turned on. If enabled, you can ask Siri for updates on the air quality in specific rooms. You can say things like, "Siri, what's the air quality in the living room?"
Note: Be sure to assign the correct room during setup. For example, if you want to assign your Laser Egg to your 'Living Room,' make sure the room is correctly spelled and that you make the commands for the 'Living Room.'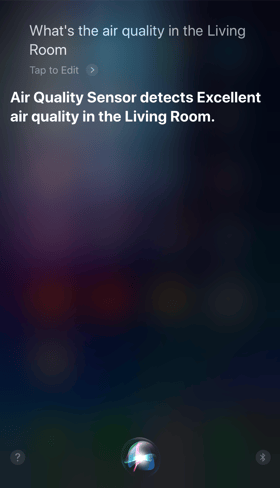 iCloud sync for sensor readings
Access real-time air quality readings in your Home app or control center across your iOS devices. To set up, sign in to iCloud with your Apple ID on every device. Then, turn on iCloud Keychain and Home in iCloud Settings.